!-onMouseover Link CSS Script-© Dynamic Drive (www.dynamicdrive.com). For full source code, installation instructions, 100's more DHTML scripts, and Terms Of Use, visit dynamicdrive.com-->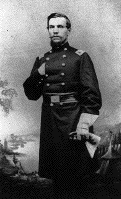 Colonel David Ireland
of Binghamton, N.Y.
---




Little is known of the personal life of David Ireland, most notably before his coming to this country. When, nor why he came to this country is known. Some of the things that are known about him are:





Born in Forfar, Scotland in 1832


Captain, 79th N.Y. Infantry


Recruited/raised the 137th N.Y. Infantry in Binghamton, N.Y., August 1862 (4 companies raised in Broome County, 3 in Tioga County, and 3 in Tompkins County)
*(The regiment contained a noble body of men, of splendid physical appearance, most of whom had been reared in the rural districts.)


Appointed Colonel of the 137th


137th N.Y.I. mustered into United States service, September 25, 1862


137th N.Y.I. leaves Binghamton for the seat of war, September 27, 1862
*(But little need be said of the departure of the regiment from Binghamton, for similar scenes were at that time occurring in many cities and villages of the state, as the boys in blue marched from their camps of organization to the railroads for transportation to the seat of war. These were the times that tried not only men's souls, but with more severity still those of the gentler sex. Deep seated below the cheers and applause which were given to these brave soldier volunteers as they marched through the streets, there was, in many instances, the most profound anguish; for there had been many a sad scene at the homes of these enlisted boys and men when the hour came in which to say good-bye.)


137th at Gettysburg - Culp's Hill
*(The officers and men behaved admirably during the whole of the contest. Colonel Ireland was attacked on his flank and rear. He changed his position and maintained his ground with skill and gallantry, his regiment suffering very severely.")

*(In a work published by Col. William F. Fox, entitled "Regimental Losses in tue Civil War," he states in regard to the One hundred and thirty-seventh New York as follows: "This regiment won special honor at Gettysburg, then in Greene's Brigade, which held Culp's Hill during a critical period of that battle against desperate attacks of a vastly superior force. The gallant defence of Culp's Hill by Greene's Brigade, and the terrible execution inflicted by its musketry on the assaulting column of the enemy form one of the most noteworthy incidents of the war.")


** August 26, 1863 Col. Ireland marries 20 year old Sara Phelps, in a "peaceful ceremony". The marriage ceremony was performed by Horace Winslow, pastor of the Congregational Society of the Village of Binghamton. The wedding was held in the home of Sherman D. Phelps, a respected town official and Sara's uncle. The marriage was short lived, as Col. Ireland had to return to his regiments and the battlefields shortly after. (The Irelands never had children.)


October 1863, Lookout Mountain, TN. General George S. Greene, commander 3rd Brigade, 2nd Division, 12 Corps (the 137th N.Y.I. being in this brigade), is severly wounded and Col. Ireland takes command of the brigade.


May 1864, wounded at Resaca, GA


September 10, 1864, after painful bout with dysentary, Col. Ireland dies in Atlanta, GA and his body is sent home, to be buried in Spring Forest Cemetery, Binghamton, Broome County, N.Y.

**(A letter from a doctor in the 137th to Mrs. Ireland, informing her of Col. Ireland's death, he wrote; " ... his death produced a great shock to his Brigade ,who placed the greatest confidence in his fidelity and courage.")

**(Three days after his death, the Binghamton Republic newspaper reported, "It is a painful duty to announce the death of Col. David Ireland." It went on to report about Sara; "We understand she was expecting soon a visit from her husband. He is on his way, but alas, comes in the sad habiliments of the dead - another noble martyr to the cause of the Union.")
* Source: New York at Gettysburg, pages 936-950
** Source: Binghamton Press, September 10, 1978
---
I performed a cursory search, but found no other persons with the name of Ireland, buried next to or in the vicinity of Col. Ireland's grave in Spring Forest Cemetery. I did notice, in the same cemetery, a number of gravestones with the name "Phelps" on them ... none having a first name of Sara. It would have to be assumed that Sara Ireland either remarried, moved from the area, or both.


Col. Ireland's reports from the field.