!-onMouseover Link CSS Script-© Dynamic Drive (www.dynamicdrive.com). For full source code, installation instructions, 100's more DHTML scripts, and Terms Of Use, visit dynamicdrive.com-->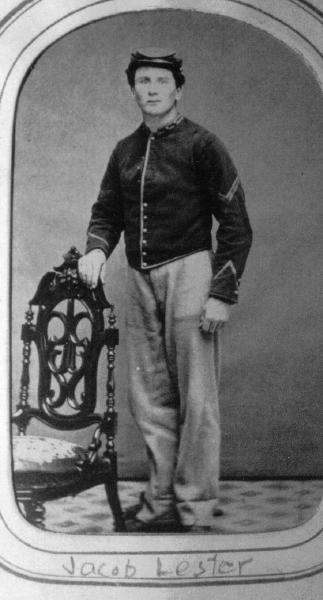 Jacob Lester
Last Surviving Broome County N.Y.
Civil War Veteran
1st Regiment, New York Veteran Cavalry, Co. F
---
Left: Corp. Jacob Lester
Photo Courtesy of the 1st New York Veteran Cavalry website.

June 24, 1847 - June 28, 1947

Jacob Lester was the last surviving Civil War Veteran in Broome County, N.Y. Mr. Lester passed away four days after his 100th birthday, at his home at 12 Newton Street in the Village of Port Dickinson. He is buried in the Chenango Valley Cemetery located on Nolan Road, Hillcrest, Town of Fenton, N.Y. View his Headstone.

This newspaper article appeared on his 100th birthday.

This newspaper article appeared four days later on the day he passed away.


Mr. Lester enlisted with the 1st N.Y. Veteran Cavalry Regiment, Co. F. Histories of this unit follow.

From the N.Y.S. Military Archives

1st Veteran Cavalry Regiment
Civil War

The following is taken from New York in the War of the Rebellion, 3rd ed. Frederick Phisterer. Albany: J. B. Lyon Company, 1912.

Left the State in detachments: July to November 19, 1863
Mustered out: July 20,1865

July 20, 1863, Col. Robert F. Taylor received authority to recruit this regiment. It was organized at Geneva, and September 17, 1863, the men enlisted for the I7th Cavalry, Col. H. D. Townsend, were transferred to it. The companies were mustered in the service of the United States for three years; at Elmira, A and B July 31, and September 8, 1863, respectively; at Geneva, C, D, E, F, G, H, I and K October 10; L and M November 7 and 19, 1863, respectively. October 7, 1864, Company M was consolidated with Company A, and the former replaced by a new Company M, mustered in at Elmira, for a service of one year.

The companies were recruited principally: A and B, 17th Cavalry, at Elmira, Adams and Ellisburgh; C at Geneva, Buffalo, Rochester and Syracuse; D at Geneva, Rochester, Nunda, Prattsburgh, Warsaw, Amity and Pike; E at Geneva, Lima, Canan-daigua and Rochester; F at Binghamton, Elmira, Adams and Rochester; G at Geneva, Buffalo, Olean, Cuba, Rochester and Elmira; H at Deposit, Franklin, Hancock, Elmira, Geneva and Tompkins; I at Geneva, Bushnell's Station, Palmyra, Pittsford and Rochester; K at Waterloo, Seneca Falls and Rochester; L at Elmira, Adams, Geneva, Almond, Hornellsville, Seneca and Ellisburgh; and M at Geneva, Syracuse, Rochester, Oswego, Geneseo and Palmyra; second Company M at Binghamton.

Company A left the State in July, 1863; B in September, 1863; C to K in October, 1863; and L and M November 7 and 19, 1863, respectively, and served in the Department of Washington, 22d Corps; in the 1st Brigade, 1st Division, Cavalry, Army of West Virginia, from February, 1864; from August, 1864, in the 2d Cavalry Division, Army of West Virginia; in Remount Camp, Maryland, from latter part of August, to close of October, 1864; in the Army of the Shenandoah from October, 1864; and from March, 1865, in the Cavalry Division, Army of West Virginia.

Commanded by Col. John S. Platner, the regiment was honorably discharged and mustered out, July 20, 1865, at Camp Piatt, W. Va., having, during its service, lost by death killed in action, 4 officers, 32 enlisted men; of wounds received in action, 15 enlisted men; of disease and other causes, 87 enlisted men; total, 4 officers, 134 enlisted men; aggregate, 138; of whom 32 enlisted men died in the hands of the enemy.


* Dyer's "Compendium of the War of the Rebellion."

1st Regiment, New York Veteran Cavalry

Organized at Geneva, N. Y., and mustered in: Company "A" July 31, 1863; Company "B" September 8, 1863; Companies "C" to "K" at Elmira, N. Y., October 10, 1863, Companv "L" November 7, 1863, and Company "M" November 19, 1863. Moved to Washington, D. C., as fast as mustered and duty in the defences of that city to February, 1864. Attached to Cavalry Division, 22nd Army Corps, Dept. of Washington, to February, 1864. Cavalry Brigade, 1st Division, Army of West Virginia, to April, 1864. 1st Brigade, 1st Cavalry Division, Army of West Virginia, to July, 1864. 2nd Brigade, 1st Cavalry Division, Army of West Virginia, to August, 1864. Remount Camp at Cumberland, Md., to October, 1864. 1st Separate Brigade, District of the Kanawha, Dept. of West Virginia, to March, 1865. Cavalry, Dept. of West Virginia, to July, 1865.

SERVICE. - Action near Upperville, Va., February 20, 1864. Snickersville March 6. Kablestown March 10. Sigel¿s Expedition from Martinsburg to New Market April 30-May 16. Near Paris and Salem May 10. Mt. Jackson May 13. New Market May 15. Hunter's Raid on Lynchburg May 26-July 1. Woodstock May 28. Newtown May 29-30. Woodstock May 31. New Market June 1. Harrisonburg June 3-4. Piedmont June 5. Occupation of Staunton June 6. Waynesboro June 10. Cheat Mountain June 11. Lexington June 13. Buchanan June 14. Diamond Hill June 17. Lynchburg June 17-18. Liberty June 10. Buford's Gap June 20. Catawba Mountains and Salem June 21. White Sulphur Springs June 25. Bunker Hill June 28 and July 2. Near Martinsburg July 2. Leetown and Martinsburg July 3. Sharpsburg, Md., July 4. Sandy Hook July 6. Near Hillsboro July 15-16. Snicker's Ferry July 17-18. Ashby's Gap and Berry's Ford July 19. Charlestown July 22. Near Kernstown July 23. Kernstown, Winchester, July 24. Bunker Hill and Martinsburg July 25. Duffield Station August 3. Cedar Creek August 12. Berryville August 16. Near Charlestown August 21-22. Falling Waters August 24. Duty at Remount Camp, Cumberland, Md., till November. Operations in Kanawha Valley against Witcher November 5-12. Newtown and Nineveh November 12. Rude's Hill, near Mt. Jackson, November 22. Duty in District of the Kanawha and in the Shenandoah Valley till July, 1865. Mustered out July 20, 1865, and honorably discharged from service.

Regiment lost during service 4 Officers and 56 Enlisted men killed and mortally wounded and 1 Officer and 89 Enlisted men by disease, etc. Total 150.
---
* Written & complied by Frederick Dyer. After the war, the Department of the Army assembled some of its vast information on the War and published the multi-volume work entitled the "Official Records of the War of the Rebellion." However, the Official Records were not fully indexed and were therefore not easily usable. Dyer used information from this source and from Union veterans to complete his work. After five years of almost solitary confinement, Dyer completed his task which was published under the name of the "Compendium of the War of the Rebellion."

Over seventy years later, the Civil War Soldiers System' Historian's Steering Committee, which consisted of National Park Rangers and Historians, recommended Dyer's Compendium as the most complete and reliable source for Union regimental histories. Dyer's Compendium had withstood the test of time and became the CWSS (Civil War Soldiers and Sailors System - National Park Service) source for Union regimental histories.